After Sharon Lair enjoyed a successful 35+ year career as an entrepreneur in the business and in telecommunications world, she turned to her life-long passion.  Sharon is living the dream helping hundreds of people as a compassionate Life-Coach, Astrologer, Numerologist, Mentor and Teacher, providing "aha moments" and facilitating positive life changes. She combines business acumen with acute insightfulness to help clients gain perspective.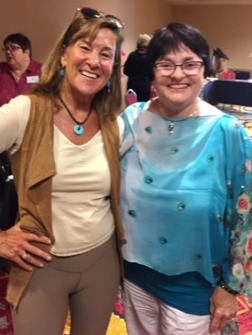 As a semi-pro Astrologer & Numerologist more than 40 years, for Sharon the Astrology key was training with Debra Silverman to combine Debra's wildly successful down-to-earth unique approach blending psychology and practical application of Astrology. Sharon has been thrilled to teach and share her passion as one of Debra's Applied Astrology Mentors for Levels 1 and 2. http://debrasilvermanastrology.com/learn/
Although Sharon is an accomplished, insightful & compassionate Astrologer, one of her unique specialties is helping people solve the mystery of an uncertain birth time using an Astrology technique known as "Chart Rectification" – a collaborative & complex process where the birth chart is "re-engineered" using significant life events as markers to determine Ascendant (also known as Rising Sign). In fact, Sharon is thrilled to be the Chart Rectification Specialist endorsed by Debra Silverman. https://debrasilvermanastrology.com/certified-astrologers/

Sharon is a Master Intuitive Life Coach® and Master Trainer trained by Colette Baron-Reid to use Colette's patented & unparalleled energy psychology process, IN-Vizion® /Invision® as well as an Oracle Guide and a Mentor for Colette's Oracle School. https://www.colettebaronreid.com/
Whether it's using Colette's cutting-edge IN-Vizion®/Invision® process that combines Jungian psychology's elements of active imagination and voice dialog or Debra Silverman's Astrology, Sharon can quickly enable you to gain clarity and objectivity helping you to meet and understand life on life's terms – the ultimate empowerment when you can see repeating patterns and make different choices.